The Belgium / Northern France Suggestion
The Clouet family may have originated in what is now Northern Belgium , and before that in Rouen , France . Several Clouets from this period were artists, whose fame was sufficiently great that they still have a place in the history of French art. A Jean Clouet lived from 1475 (?) to 1540 and is believed to have been born in Northern Belgium ( Brussels , Antwerp or Bruges ). Jean Clouet moved to France where he became a painter at the court of the French King. Francis 1st. Because of his choice of colours and his distinctive drawing style, he was known as the "French Holbein". He was succeeded by his son, Francis Clouet (1522 -1572), who became a famous portrait painter. His style was softer and more gracious than his fathers.
On a recent visit to Scotland we came across copies of two of his pictures and we took this photograph of them - unfortunately the images were a bit small and the paintings were not of high contrast. Here they are - showing Mary Stuart (later Queen of Scots) and her husband, François II.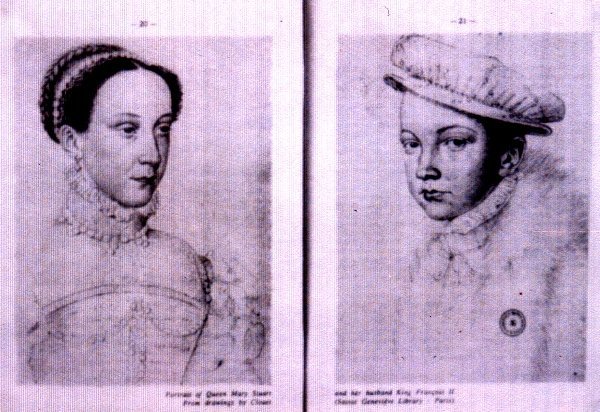 The family were also known under the name of Jehannet, sometimes Janet. There is an entry on this family in "Encyclopaedia Britannica". Books are still written about the family in more modern times - a three volume appreciation of the Clouets being given out in French in 1924 - "Les Clouet et leurs émules" by Moreau - Nelaton. More material on the French painters by the name of Clouet can be found in "A Catalogue of periodical literature, journals and transactions" by Bernard Quaritch, dated 1882, in a section called "The Clouets in France", and is summarised here.
It seems probable that the minor French aristocrats - Clouet d'Orval and Clouet des Pesruches - are descendants of these Clouets from Belgium . The Clouets began to flee from Belgium to England in the first half of the sixteenth century (1530 on).
One reason why their name does not appear in the Huguenot church records very much is that they were among the early refugees, before the first Huguenot churches were established. To avoid further persecution, it was important for them to keep their heads down and mingle with the ordinary population.
The first mention of a Clouet in England is in 1539, when a Richard Clewett had a daughter, Agnes, in London (St. Benets) . In 1541, the list of aliens in London mentions a William Clutt and Jakes Ducheman, his servant, who lived in the precincts of St. Martins Church. In 1568 the list of aliens in London mentions a Quentin Clowett, brazier, born in Brabant (North Belgium/South Holland), with a son John.
There was also a Francis Clouet, who seems to have been a Capuchin Monk. He converted to Protestantism and wrote books to defend himself from his attackers, two of these books have been translated into English and are to be found in the British Museum (British Library). These are: "The Converted Capuchin or the recantation of Father Basil" ( London 1641) and "The Capuchin's Journal or the Monk's Hood pulled off" ( London 1671). He had also had books published in Geneva , which was a known centre for Protestantism.
There was a Francis Clouet born in London in 1611, but we do not know if it was the same one. It seems anyway that a number of Clouets came over to England , possibly over the course of years. One group of protestant refugees from Belgium and France had fled to Strasbourg , which was a centre of Protestant thought. From Strasbourg, they made their way to Canterbury in England and then a group went to Glastonbury in Somerset, where they were quartered in the monastery grounds (it was no longer a monastery by then but had passed into the hands of the Duke of Somerset).
It seems possible that this group is the link between the continental Clouets and the appearance of Clouets in Dorset and Somerset . Some Clouets may have come over to Kent and continued to London , while others went straight down to the West.
The Glastonbury Huguenots were in the abbey grounds from 1550 to 1553, where they were engaged in weaving (among other places in the Abbot's Kitchen, which is thought to be still standing). In 1553, the tolerant Edward VI died and was succeeded by the Catholic Queen Mary. She ordered all foreigners out of the country and the community at Glastonbury broke up and returned to the continent.
It could well have been the case that some of the community did not return to the continent, but, keeping their heads well down, moved from Glastonbury and mixed with the local population. In the early years of the next century, (fifty years later), Cluetts make their appearance in Abbas Templecombe - William Cluat married Catharine Balstar on 15th June 1607. Cluetts appear in Lydlinch, Dorset in 1647. There were also Cluetts in Taunton in the early 1700s and another Cluett community in the Bath area. All these places are situated about 20 miles from Glastonbury .
We don't know today whether the Glastonbury explanation is the right explanation for how the Cluetts came to end up in the Dorset countryside, but it is an explanation, which fits quite a lot of the facts. We still can't trace the direct line back beyond William Cluett in Lydlinch in the 1640s. What is quite clear is that the Cluetts came over from Belgium and were Protestant refugees. It would be very surprising if the Lydlinch Cluetts were not connected to this Cluett family (a small interesting piece of evidence here is that the established Huguenot family name of Romain crops up in Lydlinch at the same time as the first Cluett).
SOURCES
"Les Clouets et leurs émules" by Etienne Moreau - Nelaton (Paris 1924 )

"Proceedings of the Huguenot Society, vol XIII (The French - Walloon Church at Glastonbury 1550 - 1553)".

"Bibliographie Nationale de Belgique" (Bruxelles 1873)

International Genealogical Register for London , Somerset and Dorset

Quarto Series of the Huguenot Society, vol X (list of aliens), vol XVIII (letters of enization 1603 - 1700)

Parish registers (Lydlinch, Abbas Templecombe).

"A Catalogue of periodical literature, journals and transactions" by Bernard Quaritch, 1882
Page last updated: 7th August 2009